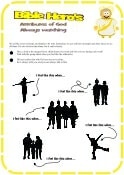 While this sheet, covering the idea of God watching, can be given to children to write on the resulting discussion is the important aspect. The design makes it suitable for all ages of children, though the group dynamics will determine the length of the activity.

You may find it helpful to have a copy for yourself, or a piece of note paper. Discuss each silhouette and how the people may be feeling. Jot down some of the responses and use them as prayer prompts with the children at the end of the discussion if it is appropriate. As always remind the children that there is no right answer, each opinion is valid, and discussions will not be repeated to parents or to anyone for that matter.*

The PDF can be downloaded by clicking HERE.

* According to your church child protection policy
Other posts for Attributes-of-god.